Track & Field Student-Athlete Huddle
Jeevaneesh competing at the 2018 IVP Games in January. (Photo by Lim Yong Teck/Red Sports)
On the 20th of April 2018, the National Youth Sports Institute (NYSI) held a Track & Field Student-Athlete Huddle - a sharing session between current final-year Junior College (JC) track & field student-athletes and two current and ex-national track & field athletes, Jeevaneesh S/O Soundararajah and Kenneth Khoo.
The purpose of the huddle was to give these student-athletes greater insight on how they can juggle both their sport and studies once they enter university.
Both Jeevaneesh and Kenneth were track & field athletes who not only remained in the sport during their National Service and university days, but also thrived in it, going on to represent Singapore at the international level.
Jeevaneesh is a long-distance runner who is currently a final-year student at the National University of Singapore. He was part of the 2015 SEA Games athletics squad and took part in the 5,000m event. More recently, he bagged the Gold in 5000m and 10000m at the 2018 Institute-Varsity-Polytechnic (IVP) Games in January.
Kenneth made his SEA Games debut at the 2003 edition. He went on to represent Singapore in 4 more editions of the SEA Games which included his appointment as the captain of the Singapore track & field contingent at the 2015 edition. Kenneth is now a Senior Physical & Sports Education Officer (Sports Education) with the Ministry of Education.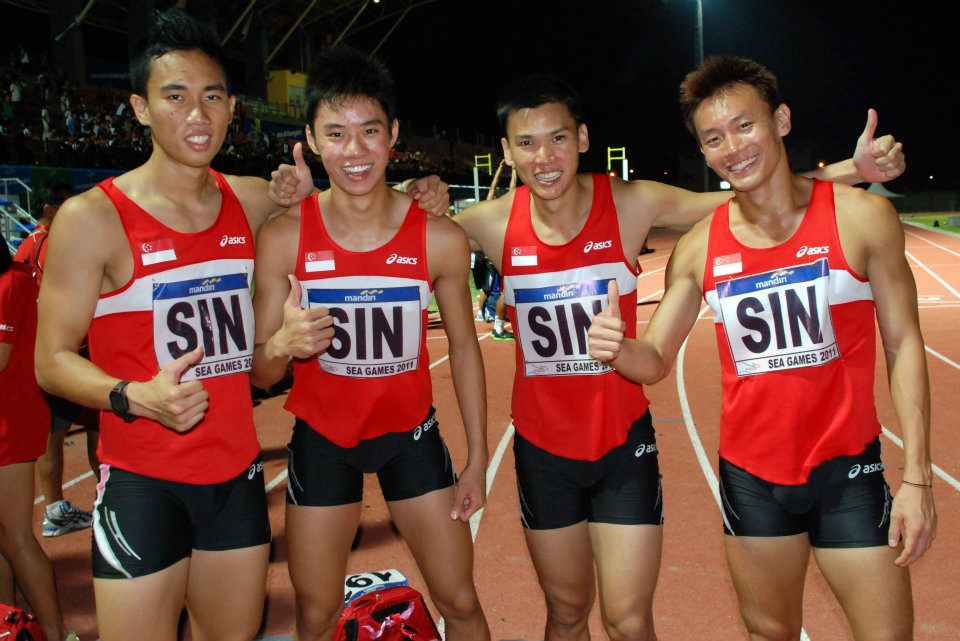 Kenneth (far right) with the Singapore men's relay team at the 2011 SEA Games.
We asked Jeevaneesh and Kenneth to share with us their sporting experience, particularly during their university days.
Q: How did you pick up the sport?
Jeevaneesh: I took part in track and cross country races in Primary and Secondary school but it was for fun, (and) I didn't train much for it. It was only in Secondary 4 that I did well, coming in 5th for the Cross Country Nationals and 2nd in the 1500m at Track & Field Nationals. After joining Hwa Chong Institution for training, I realised my potential and started training seriously since my first year in JC.
Kenneth: I always had a love for running which was cultivated during PE lessons, after-school games and catching sessions during my Primary and Secondary school days. My schools never had an athletics team back then, so I waited till I was in JC to join the athletics team.
Q: What made you want to continue in the sport after JC and during your university days?
Jeevaneesh: I'm not sure what the exact reasons were but I remember wanting to represent Singapore for the SEA Games and break the 5000m National Record.
Kenneth: Part of the appeal of running is just to see how far and fast you can go. I felt that I had unfinished business from my Nationals days, so it was just a natural extension for me to continue through National Service (NS), university and beyond.
Q: How did you manage full-time National Service alongside your sport involvement?
Jeevaneesh: During NS, I wasn't able to train as much as I did during JC but I continued to run whenever I could, such as during healthy-lifestyle runs conducted in-camp or long easy runs at Macritchie on Saturdays. I also represented my unit for the Army Half Marathon.
Kenneth: I couldn't train for the first year when I enlisted due to the courses and training I had to attend, but tried to maintain my fitness by joining training sessions during weekends. Fortunately for me, I got posted to a unit with a strong support for sports. I usually get off work at six, then I'll train before heading back to camp since I was in a stay-in unit.
Q: How did sport help you manage your studies in university?
Jeevaneesh: I train 4 times a week during university and my trainings are fixed, so I plan my studies around them. I try my best to be consistent in my work so that I can do well and not have to rush to study for my exams.
Kenneth: Sports gave me a balance in life. It helps me manage my stress levels and keeps me focused. If I didn't do competitive training, I would not necessarily have spent my free time studying. I would probably be hanging out with friends or engaging in other social activities.
Doing sports also keeps me on a heightened state of urgency to finish my work so that I don't lag in my schoolwork and have time for training. Ironically, this urgency to study will not be present if I weren't doing sports.
Q: What have you learnt from sport that you can apply to daily life?
Jeevaneesh: I usually set goals for my sport, so I did the same for my studies and other aspects of my life and had a plan to work towards these goals. Sport also gave me confidence, friendships and opportunities that I would never have had if it wasn't for sport.
Kenneth: It's clichéd but I learnt to never give up. I've been through some bad patches, including long term injuries and even a ban. It was really tempting to just tell myself I've had enough and walk away, but I'm glad I stayed on. It taught me to always look for solutions to seemingly impossible problems, something that has served me well in life.
Sports also taught me that I always have something left to give even when I'm seemingly spent. I learnt how powerful the mind can be when properly motivated. Motivation allows us to do some crazy things we never thought possible.
Q: What's the biggest challenge in balancing both studies and sports at university level?
Jeevaneesh: I think the biggest challenge will be to be consistent, in terms of studying for modules and exams, and training for sports. There will be times where it gets hectic due to exams and competitions, along with distractions from friends and events in university.
Kenneth: To be honest, I was never faced with a situation where I had to make a choice between studies and sports at the university level. Consistent work will ensure you'll never have to do anything extra during the exams. As I shared, I had no reservations training through the exam season since I did my work early and never had to rush for deadlines. It all boils down to time management.
Q: What would you say to current JC2 Track & Field students to encourage them to stay in the sport?
Jeevaneesh: If you enjoy the sport, continue to play and improve yourself in it. You'll never know how far you can go and the opportunities you can have until you try. And remember, NYSI will be there to support you in one way or another.
Kenneth: I was bemused by the suggestion during the sharing session that only the best and national team potentials should stay on in sports. If this were true, why is it that our synthetic pitches and football fields are packed in the evenings and weekends with folks playing recreational football, among other sports? I think sports serve a lot of purposes beyond high performance. We should try to look beyond this transactional approach toward sports.
After all, there are certain goals you can only achieve when you're young. Many leave the sport as they are fearful of losing out on career prospects. You have 40 years ahead of you to build your career, but you probably only have 10 to 15 good years to do sports.