Singapore Swimmers Finished 4th Best at 2017 Commonwealth Youth Games with NYSI Support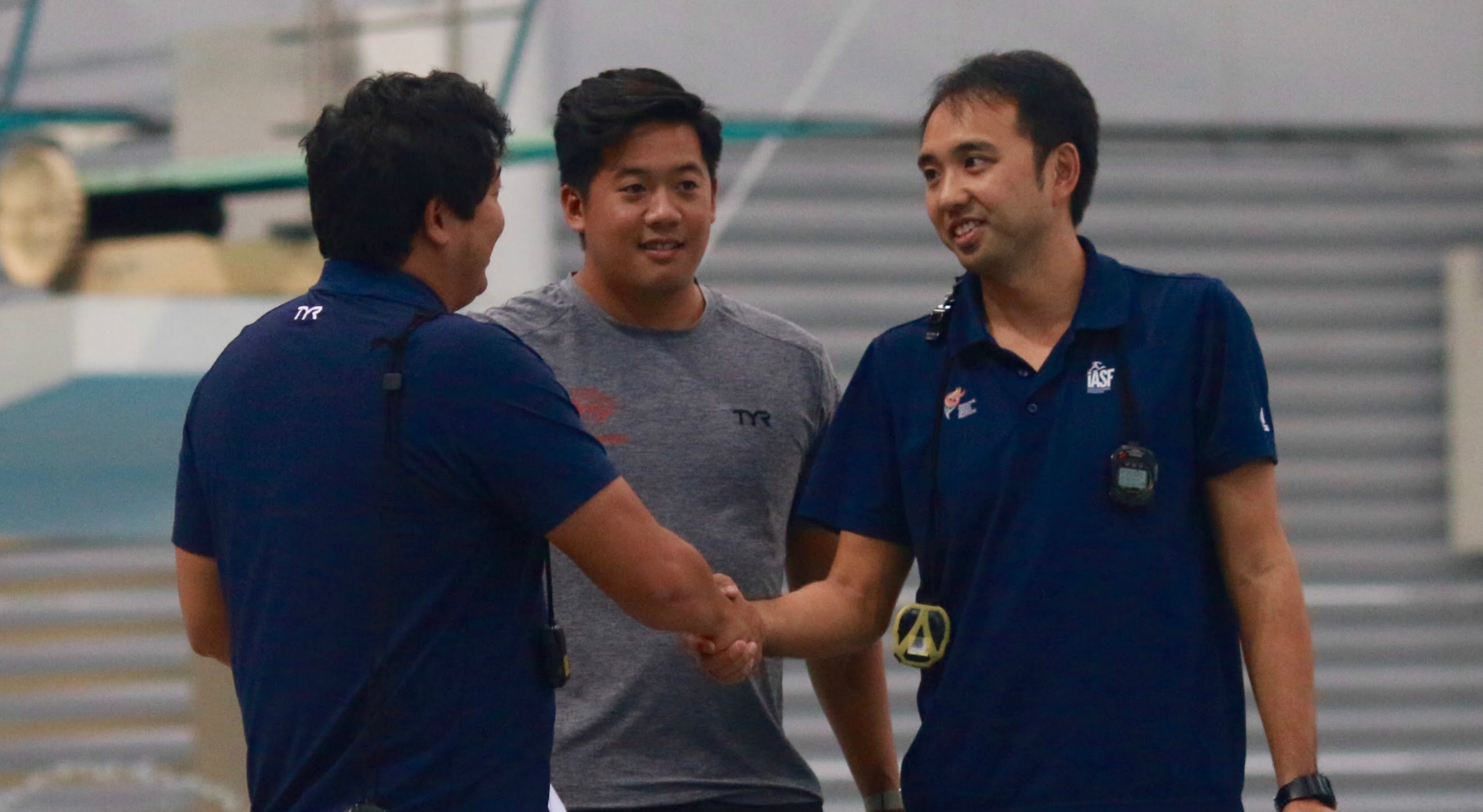 Leonard Tan, NYSI Swimming Head Coach, shaking hands with Gary Tan, Head Coach of the National Training Centre (NTC) squad. Looking on is Marcus Cheah, NTC Assistant Coach.
Singapore finished as the fourth-best swimming nation at the 2017 Bahamas Commonwealth Youth Games behind England, South Africa, and New Zealand.
Leonard Tan, 32, NYSI Swimming Head Coach, led the contingent of swimmers to 7 gold, 4 silver, and 6 bronze medals. The 17-medal total was the third best tally after England (21) and New Zealand (20).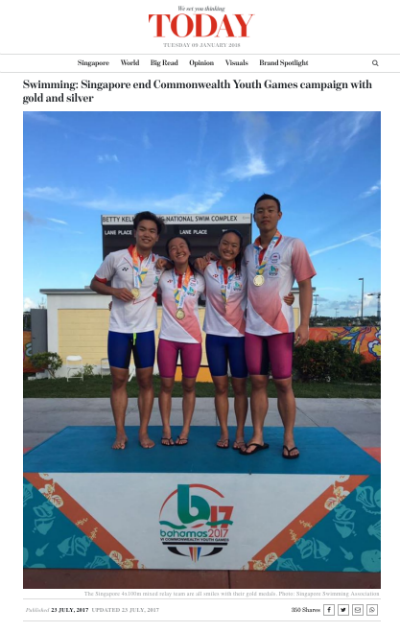 Supporting Coach Leonard in the lead up were the NYSI Sport Scientists.
"The NYSI support provided me with more data to coach the swimmers better," said Leonard. "I worked with Ivan Ee, the NYSI Performance Analyst, on a weekly basis with the National Training Centre swimmers using video feedback. During com-petitions, the Performance Analyst is the one that provides me with crucial racing data so that we can decide and make adjustments – turn times, number of underwater kicks, pacing per lap, stroke efficiency – in between heats and finals."
"The trip provided the perfect platform to incorporate various elements of sport science within coaching," said Ivan. "The swimmers used our underwater video feedback actively, to fine tune their swimming mechanics during the training phase."
Apart from Performance Analysis, NYSI also provided sport science support in Strength and Conditioning (S&C) and Nutrition.
"I conducted S&C training for the swimmers in the three months leading up to the Games," said Elaine Gay, NYSI Strength and Conditioning Specialist. "It was satisfying to see swimmers like Quah Jing Wen and Natasha Ong improve over the months. And I travelled with them to the Games to provide recovery support. I felt proud seeing the swimmers win medals."
Sport Scientists also supported the swimmers with a jet-lag management plan to cope with the 12-hour time difference. In addition, NYSI Sport Dietitian Ng Ee Ling held workshops before the contingent's departure for the Games.
"The NYSI Sport Dietitian went to training camps to guide the youth swimmers and impart knowledge about the finer points of recovery and diet," said Coach Leonard.
The swimmers responded positively to the NYSI support. "The whole NYSI team felt encouraged about the swimmers' response to our support and we were motivated to ensure the best training environment for the swimmers to perform. Throughout the trip, everyone – swimmers, coaches, officials and NYSI sport scientists – worked towards a common goal of bringing back medals for Singapore. The feeling was electrifying," recalled Ivan.
Two NYSI Sport Scientists who worked with the swimmers in the lead up to the Games also travelled with the team to The Bahamas. As a result, the swimmers benefited from having a support team they were familiar with.
"The NYSI scientists fit right in with the team because of the daily and weekly interactions with both junior and senior elite swimmers," said Leonard.
"We did really well," said Dr Low Chee Yong, NYSI Assistant Director of Sport Science, who was also the Chef de Mission of the Singapore contingent at the Games. In fact, based on a previous analysis by Ivan Ee, we were targeting 11 medals but we finished with more than that – 17. The athletes really took this in their stride and made the most out of this opportunity to race competitively. The experience our athletes got from this competition put them in good stead for the 2017 SEA Games. To hear the Singapore national anthem played seven times over the course of four days at the Commonwealth Youth Games was really special and we were all glad to be part of this."

Male swimmers
Dylan Koo, 18
Samuel Koo, 18
Darren Chua, 17
Francis Fong, 17
Maximillian Ang, 16
Ong Jung Yi, 16
Jonathan Tan, 15
Female swimmers
Christie Chue, 17
Natasha Ong, 17
Quah Jing Wen, 17
Jamie Koo, 16
Nicholle Toh, 16
Faith Khoo, 13