Singapore University Netballers Won Bronze At 2018 FISU World University Championships With NYSI Support
Singapore University Netballers Won Bronze At 2018 FISU World University Championships with NYSI Support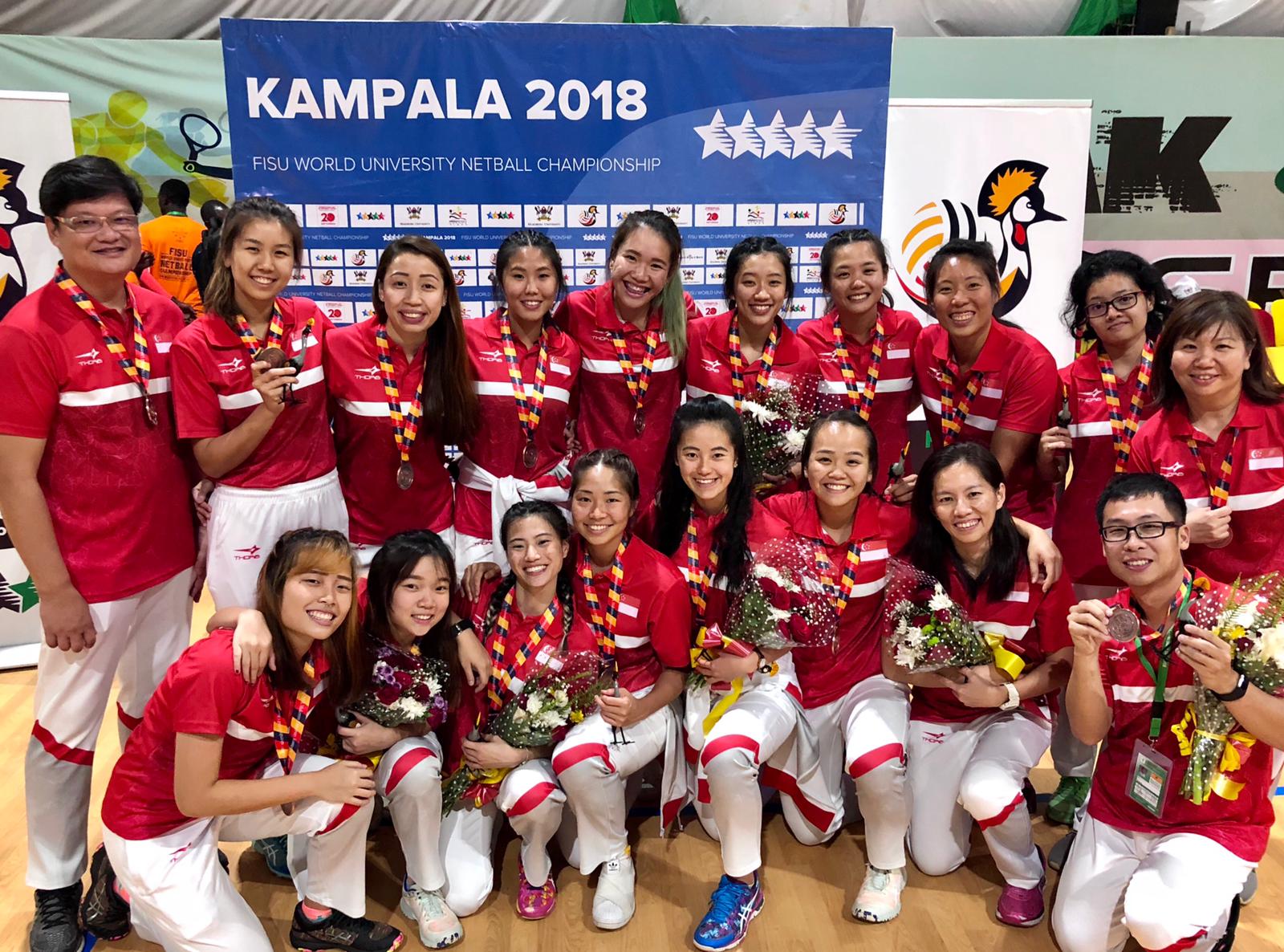 The Singapore University Netball players, coaches and officials at the closing ceremony of the WUNC
The Singapore university netball team clinched the bronze medal at the recent 2018 FISU World University Netball Championship (WUNC) in Kampala, Uganda from 17th to 21st September 2018.
Uganda emerged champions after beating South Africa in the final, with Jamaica, Kenya, Singapore, Sri Lanka, United States, and Zimbabwe the other six nations taking part in the Championship.
The National Youth Sports Institute (NYSI) supported the team of 12 student-athletes who came from National University of Singapore (NUS), Nanyang Technological University (NTU), Singapore Institute of Management (SIM) and Singapore University of Social Sciences (SUSS).
Joanne Loo, NYSI Netball Head Coach, with Assistant Coach Christopher Koh alongside, led Singapore to an opening match win against Kenya (39-38), before proceeding to defeat Zimbabwe (45-40) and Sri Lanka (62-37).
Singapore lost to South Africa (11-92) and hosts Uganda (19-77). Despite the loss against USA (37-41), the team emerged third due to goal difference.
"WUNC is one of the most amazing and inspiring coaching journeys I have been on. We were very process-driven as we wanted to achieve our team objectives in both attack and defense. With that, the results took care of itself," Joanne commented.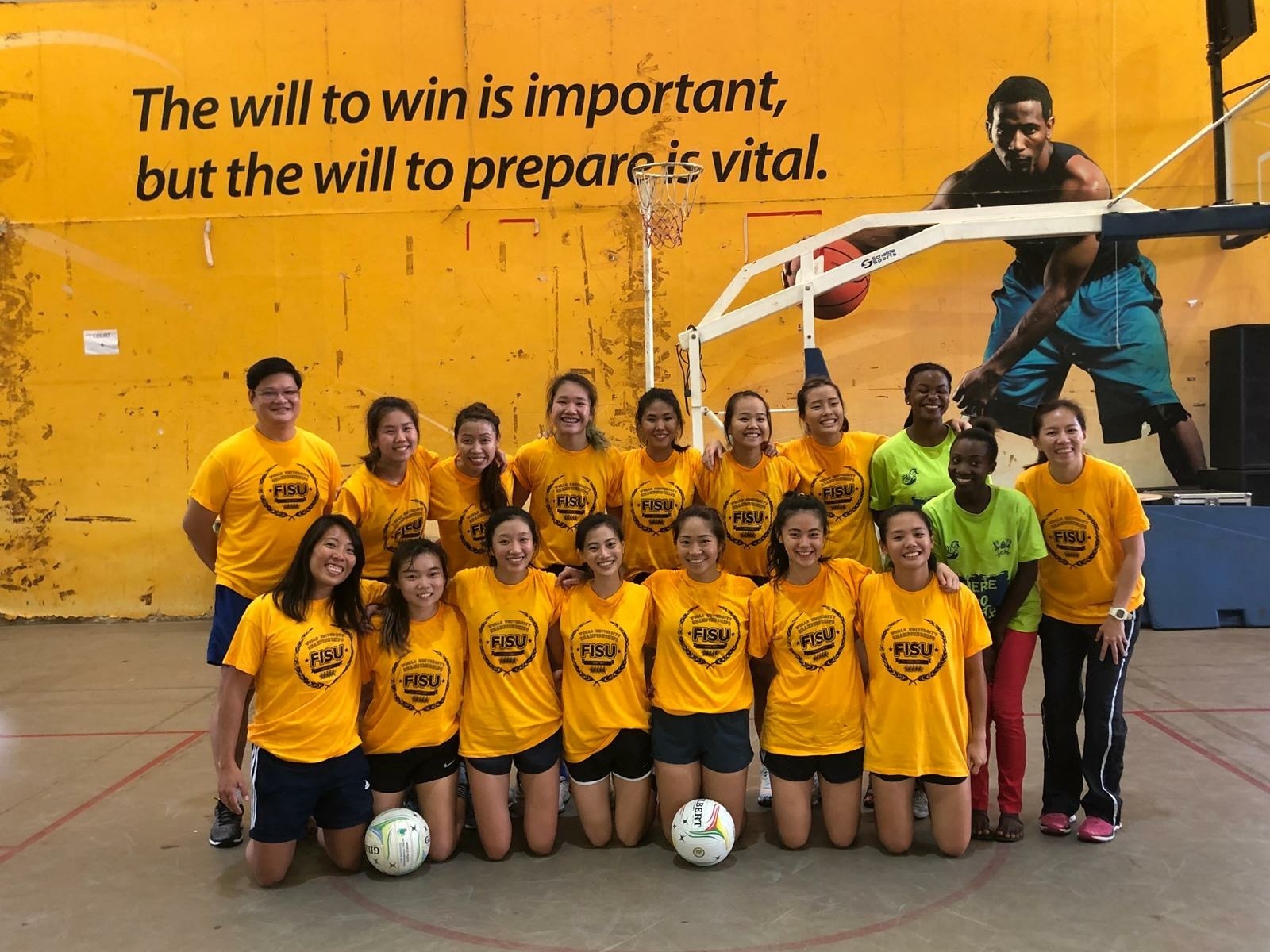 Singapore WUNC team pre-game training in Uganda
Supporting the coaches in the lead up was the NYSI Sport Science team in the areas of psychology, nutrition, physiology, strength & conditioning, and physiotherapy.
"We wouldn't have made it this far without NYSI's constant support and belief that the WUNC is a competitive platform that can inspire potential Institute of Higher Learning (IHLs) student-athletes. There were many obstacles along the way but the Heads of NYSI working collectively with Joan Yuliani and Caroline Ang (Singapore University Sports Council representatives) kept assuring us and helped us worked around the constraints every time," recalled Joanne.
Assistant Coach, Christopher Koh, also commented, "I think overall the team performed to expectations, several individuals stepped up and performed above the call of duty. The support from NYSI is very good in terms of the provision of facilities and resources for training."
NYSI Sports Psychologist Jeevita Sajeev Pillai worked on team building. She conducted activities that emphasized communication skills, building trust, working together as a team, building self-awareness and team-awareness.
"We reflected after each activity to emphasize the learning point of each activity. We also spent a significant amount of time to set goals both as an individual and as a team. The session benefited the team as the girls felt that they lacked in that area," said Jeevita.
"We also had a session where they shared the strengths and weaknesses of the team. We focused on how we could change those weaknesses into strengths. It was a fruitful camp because everyone participated wholeheartedly and wanted to be a better version of themselves," she added.
NYSI Sports Physiologist Marcus Lee supported the coaches by conducting a fitness test and heart rate recovery assessment of each player prior to the Championship. He also supported the netballers with a jet-lag management plan to cope with the 5-hour time difference.
"We set out to improve on aerobic conditioning from the start and I am very pleased with the team as we had a large improvement prior to the Championship," said Marcus.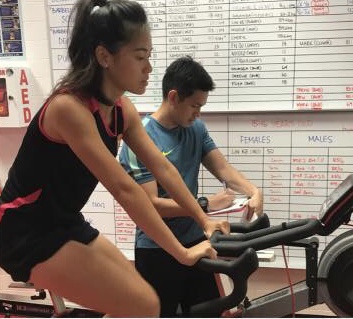 NYSI Sport Physiologist, Marcus Lee conducts physical conditioning session
NYSI also looked at the nutrition needs of the youth athletes in the lead-up.
NYSI Sport Dietitian Jamie Lye held a 2-day workshop in August to teach them basic concepts of sports nutrition, food safety, hand hygiene, the importance of hydration and how to prepare a simple meal.
"A microwave and kettle are two appliances that are commonly found in overseas accommodation. This is part of travel nutrition and one of the aims of the workshop was to ensure that the girls are well-prepared in terms of nutrition, even in situations where food is not readily available," said Jamie.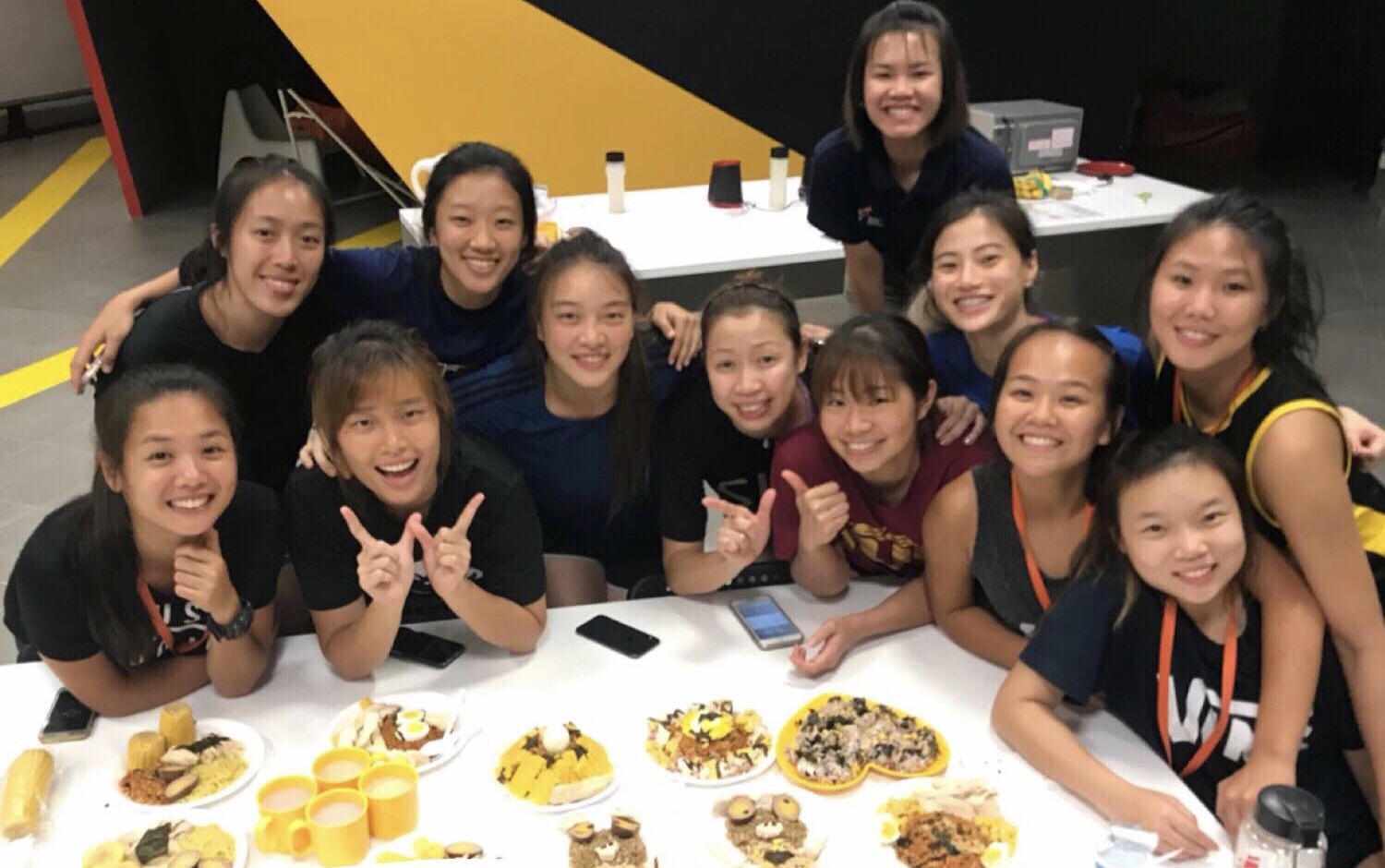 NYSI Sport Dietitian, Jamie Lye, conducted a 2-day workshop with the Singapore WUNC team
"The team has very good dynamics and was very open and receptive to the support that NYSI Sport Science has provided. They made the effort to apply and execute the information given to them. They never fail to support each other and I think these are the key ingredients for their success," she added.
The team also trained with Jason Gregory, NYSI Strength and Conditioning (S&C) Specialist.
"I assessed the team's technical competency and ability to tolerate load. Specific programmes were then given to individual players to cater to their different needs. During the entire preparation period, WUC netball squad members changed consistently. Despite that, the same S&C methodology was applied with every new member," he said.
"I am so pleased with this team! They are a wonderful group of dedicated and committed players who are willing to put in the effort and dedication. They displayed teamwork with real compassion. I consider myself privileged to be involved with them. It was an honor," said Jason.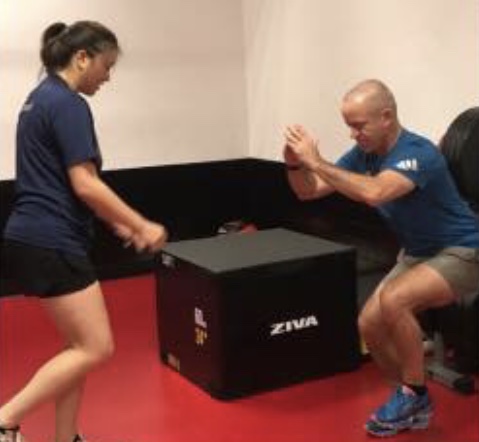 NYSI Strength & Conditioning specialist Jason Gregory conducting training
NYSI Physiotherapy, Andrea Chen, travelled with the team to Uganda.
"Kelvin Wong (NYSI Physiotherapist) conducted a workshop on taping before we left for Uganda. I took over the education process when we were there by conducting active recovery sessions. We worked on active stretches on their weaker muscles whilst releasing the tighter ones. We used equipment (foam roll, trigger ball, and buddy massage) to ease tight muscles and mobilize stiff joints," said Andrea.
"The girls fought with heart and showed mental resilience to come back from an unexpected defeat against USA. To have pipped Kenya narrowly to the bronze is an amazing outcome that's a direct product of their underdog-plays against South Africa and Uganda. The best part of it is that a few of them said that they fell in love with netball all over again," she added.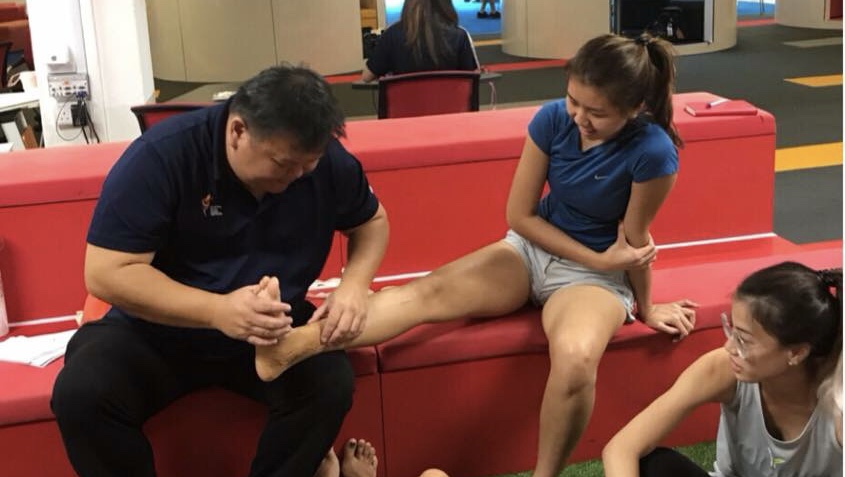 NYSI Physiotherapist Kelvin Wong conducted a sport taping session
The netballers responded positively to the NYSI support.
"WUC was one of my best netball experiences. I enjoyed playing together with a really bonded, driven team. It was an eye-opening experience as it was my first international competition and to be given the opportunity to lead the team alongside Tabitha Ong (Captain)," said Alicia Tan (Vice-Captain).
"NYSI Coaching improved my skills and understanding of the game. S&C and physiology better prepared my body for the physical demands of the game. Psychology helped us to better understand our team and focusing on a common goal. Nutrition also taught us how to take care of our bodies which are very beneficial to us athletes," she added.
One of the team members, Vera Phang Jia Li, who had no prior netball experience, was scouted by NYSI Talent Identification staff because she had the physical attributes to play the game.
"It was an eye-opening experience for me as it was my first netball competition and I was really grateful for this opportunity. I really enjoy the way netball flows and how teamwork is heavily emphasized both on and off the court. NYSI's support has definitely helped me prepare greatly in terms of strength, as well as ways to recovery," said Vera. "NYSI's support has been beneficial for my growth and development in netball."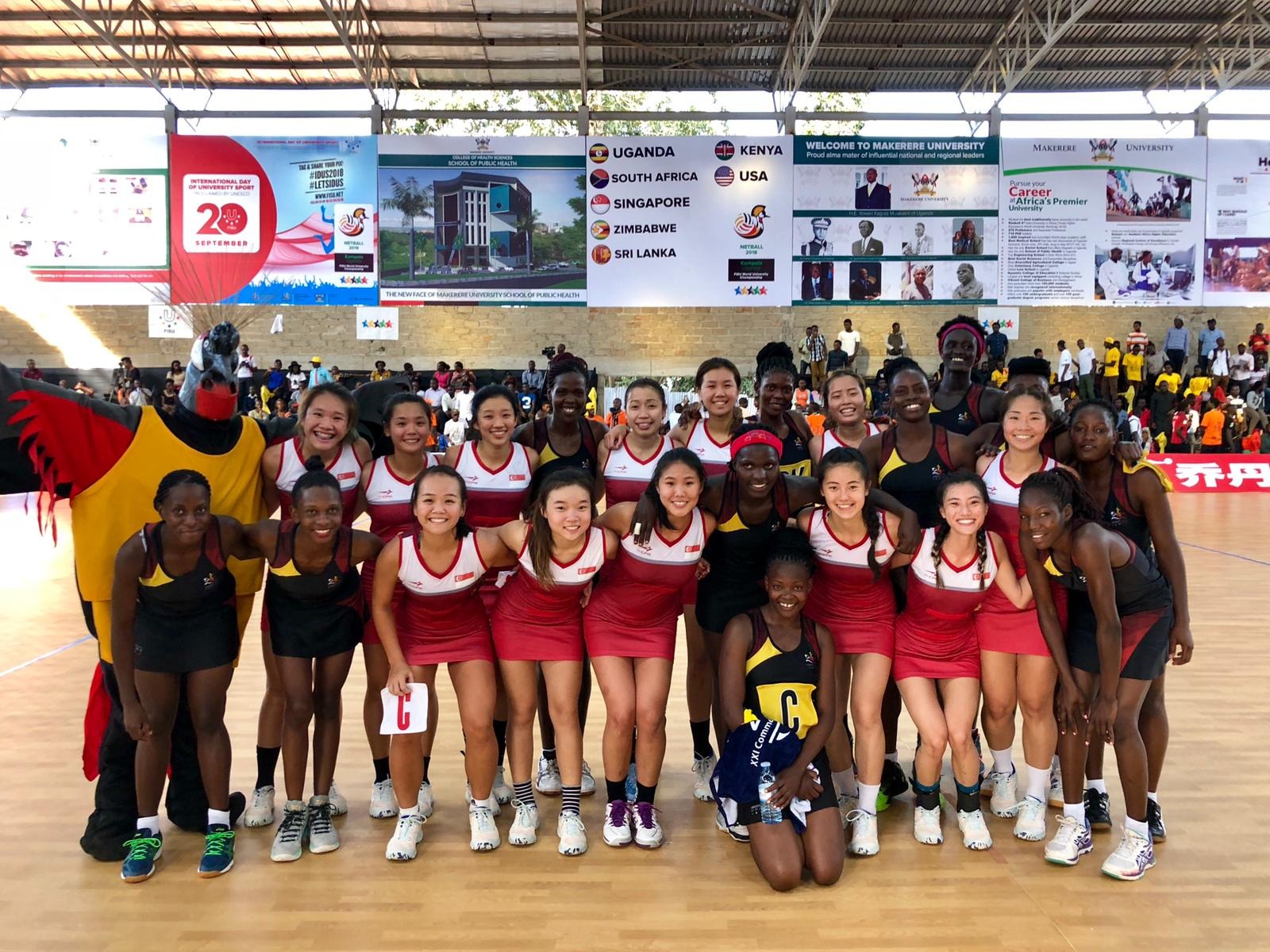 Singapore WUNC team with host team, Uganda
During the Championship in Uganda, NYSI Performance Analyst Nur Adilah binte Masismadi spent many hours analyzing video footage of netball matches. Seated at a higher ground to record matches, she used the Dartfish App to code center-passes, through-court and goal third attacks and defence as they occurred during the game. Video footage of selected passages of play were then sent to the players or screened during team talks to review the effectiveness of tactics used and to identify areas for improvement.
"My role was to analyse the Singapore and the opposition teams' matches," said Adilah.
The end of a match still meant more work for Adilah. From syncing the video recording to the tags and looking at specific plays, Adilah picked out clips to highlight the team's good and bad performance while identify the opponents' preferred patterns of play.
"I would also assist the coaches in preparing for team talks as they review their past performance, as well as strategising and coming up with a game-plan by using these clips as visual aids. At times, the coaches also used clips from earlier matches to highlight areas for improvement or to acknowledge a player's good performance," she added.
Adilah recalled, "It was a relief that we came in third. The top 2 teams were clearly ahead of the rest and I believed that based on our ability, third placing was a very real possibility. And despite the height and size disadvantage we had, I think our team really amazed people with their performance (particularly the quick passing style of play) as we received praises from the other teams."
Team List:
- Alicia Tan Li Yin (22, NTU)
- Brenda Poh Ing Ting (24, SIM)
- Callista Koh Xin Zhi (22, SIM)
- Chanya Lee (21, NTU)
- Cheah Xuan Sabina (23, SUSS)
- Dawne Lim Wan Yi (23, NUS)
- Merilyn Cheong (21, NTU)
- Rindy Lok (19, NUS)
- Sherlyn Ng Yun Lin (20, NUS)
- Tabitha Ong Jie Yi (23, NUS)
- Tan Shi Ni (23, NUS)
- Vera Phang Jia Li (20, NUS)