NSG Junior Division Review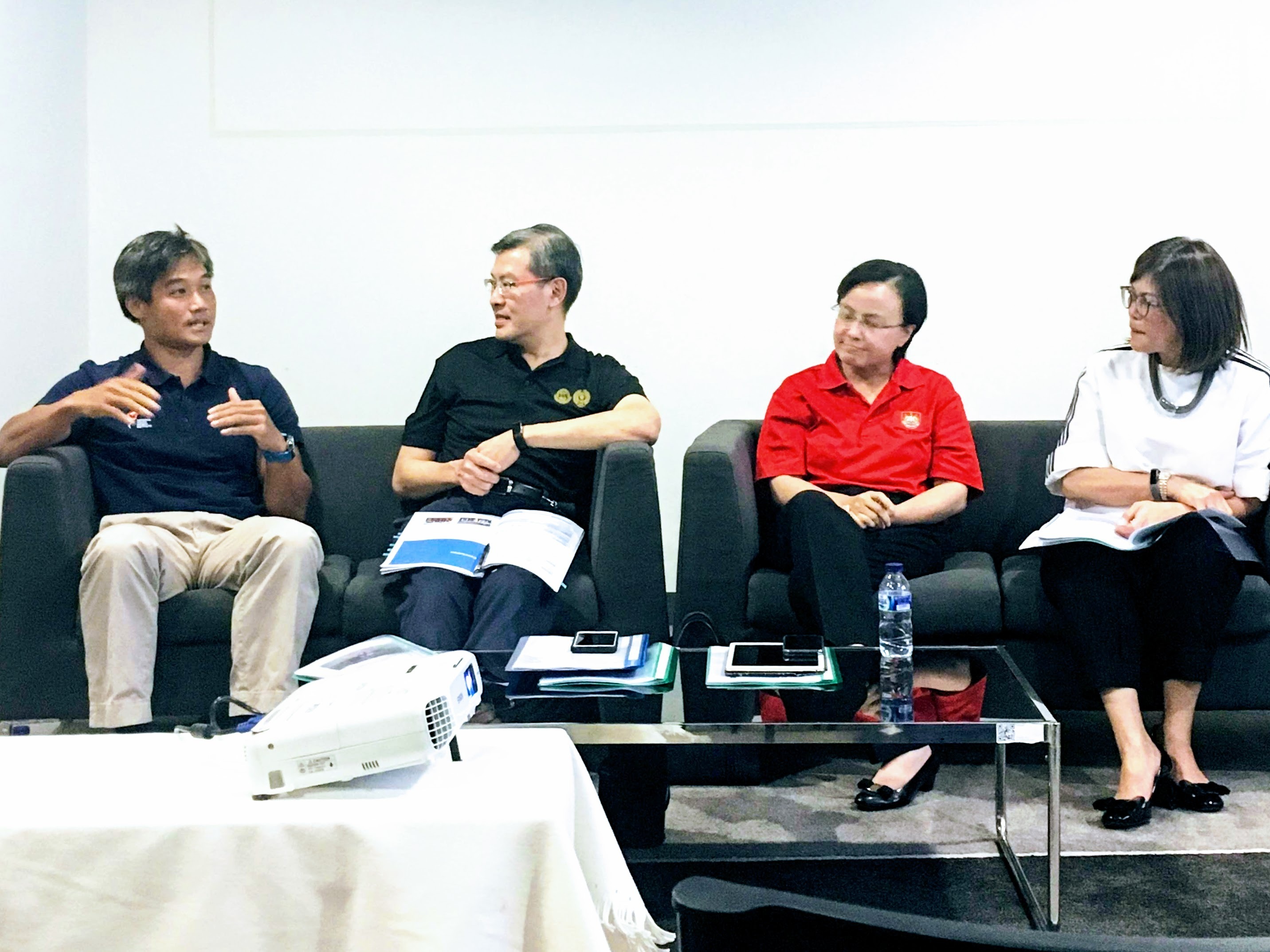 Mr Tan Wearn Haw (extreme left), Director of NYSI, speaking at the media panel for the Junior Division Review. With him are (L-R) Mr Ong Kim Soon (Director, PSOEB), Mrs Tan Chen Kee (Divisional Director, Student Development Curriculum), Mrs Lee Hui Feng (Chairman, SPSSC).
Primary 3 to 5 student-athletes aged 9-11 will soon see changes in the format of their favourite sports. For example, instead of the usual 5v5 basketball format, they will get to play 3v3 basketball on a half-court. In floorball, the previous 6v6 format will be replaced with a 3v3 version with no goalkeeper and 2 goalposts per side.
These are some of the enhancements that the Ministry of Education (MOE) will implement after their Junior Division Review in 2018. The aim of the review was to strengthen the long-term development and sustained participation of primary school student-athletes.
Speaking at the 2019 National School Games Opening Ceremony, Senior Minister of State for Education, Mr Chee Hong Tat, said, "These enhancements will enable our young athletes to enjoy their sporting experiences, have more opportunities to participate in competitions, and develop character and values through sports."
The suite of enhancements cuts across most sports and can take the form of changes to awards and recognition, competition format, age group division, game format, equipment, and game rules. Some changes have already been rolled out since 2018, with the remainder to be fully implemented by 2021.
"We did a massive work group discussion with all the principals and HODs (Heads of Department) to allow us to interview the students, the teachers, and with NYSI (National Youth Sports Institute) as well and the NSAs (National Sports Associations), to make sure we are all aligned," said Mr Wong Swee Meng, Senior Specialist at MOE's Physical, Sports & Outdoor Education Branch.
"It's not change for change sake but rather a quite measured approach in doing what's best for our kids in the Singapore context," said Mr Tan Wearn Haw, Director of NYSI.
"When you speak to the Olympians, they still go back to finding that intrinsic reason to carry on. Many will link it back to the very first experiences they had when they were a kid. It's not easy to be in competition. It can be very intimidating for these kids. So it's not so much about lowering the stakes, but we are trying to see how we can make it fun, even in the high performance sense," added Wearn Haw.
Click here to read: Top 8 athletes to be recognised in changes to primary school sports meet
Click here to read: Interview with Dr Low Chee Yong, Head of NYSI Sport Science