Junior Sports Academy Sharing Session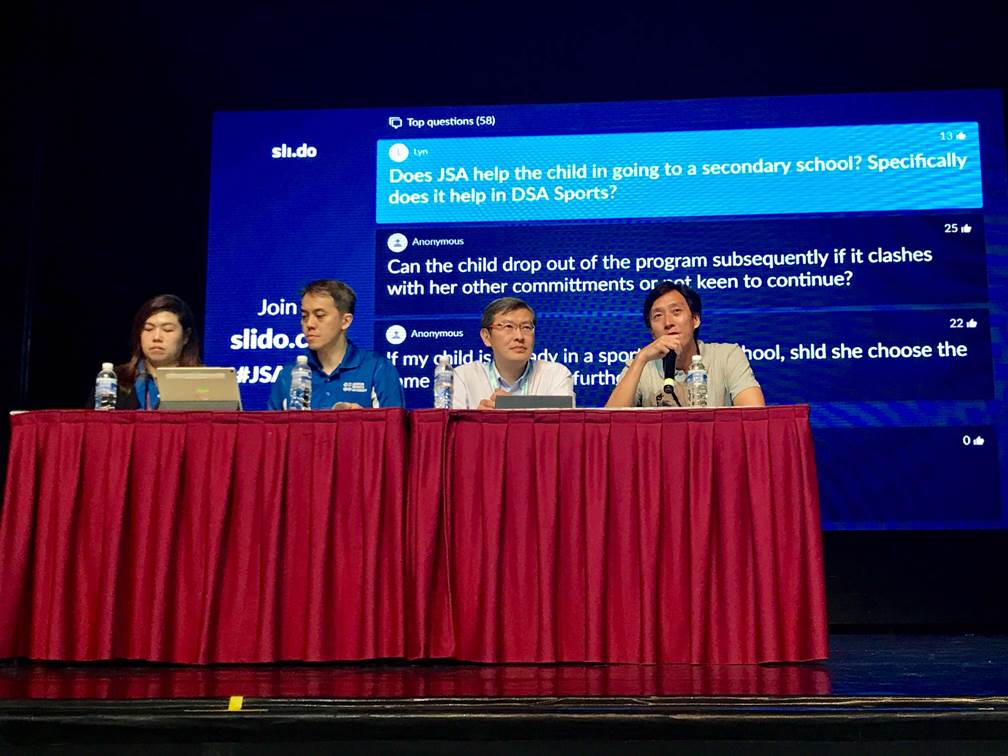 The Junior Sports Academy (JSA) opened its doors to some 900 students and their parents over two sharing sessions (25 April and 3 May) to provide them with greater insight into the JSA Programme.
The JSA Programme is a collaboration between the Ministry of Education (MOE) and the National Youth Sports Institute (NYSI) to ensure that the issue of affordability does not stand in the way of physically talented primary school students who want to play sports.
These Primary 4 and 5 students were selected from a pool of more than 4,000 children who were tested for their speed, agility, coordination, balance and power by the NYSI Talent Identification and Development team.
The two-year programme gives them the opportunity to play a different sport every semester. Students can select from a range of 19 sports but must participate in at least one sport from each of the following categories: general, territorial-invasion, net-barrier/wall and striking-fielding/target.
This aligns with the programme's objective, which was revised in 2015 to emphasise a broad-based exposure to sports.
"At a young age, if you provide them with a broad-based developmental opportunity, they develop multiple motor skills that reinforce one another, so you have a more versatile athlete in the making," explained Mr Ong Kim Soon, Director of the Physical, Sports & Outdoor Education Branch of MOE.
Mr Low Chee Yong, Head of Sport Science at NYSI, continued: "The programme also shows people that a broad-based sporting experience can get our athletes to the same level (as those who specialise in one sport from young) and that it might be better. Not just because we can minimise injuries or burnout, but also because we've found that when kids learn different things, they can cross-transfer the various sets of skills. They're more creative and it could make them better athletes in the future because they can harness skills they've learnt from other sports and apply it to the one they're playing."
The weekly sessions are conducted at 14 hosting schools, in addition to other specialised venues, such as the National Sailing Centre and Bedok Tennis Centre. In an effort to make the programme accessible for all students, these venues are spread across the island and are easy to get to by public transport.
The programme was not meant to turn a child into an immediate sporting star though, warned Mr Ong. Instead, it seeks to build a strong foundation for long-term physical development.
"If you think sports is just about sports, and about national representation and winning medals, it is not. The larger value of physical activity, for which sports is a part of, really leads to overall development of a person in a very holistic sense," said Mr Ong.
He added: "The framework sits within the larger context of trying to build a nation of active and healthy individuals."
Mr Low also mentioned how giving students the opportunity to play multiple sports increases the chances of them finding a sport they really like, such that they will carry on in that sport.
"It's easy to say that the success story (of the JSA programme) would be a kid who eventually gets into a school via the Direct School Admission (DSA) exercise, joins the national team and wins a medal, but that's a very narrow path. It can just be about having fun – those are success stories of the programme as well."
The first batch of students to undergo the revised JSA programme graduated last year and the response has been positive.
"Feedback from the students has shown that they have enjoyed learning and playing the sports they selected. Some of these kids, who learnt all four sports as part of the programme, did well enough in one or two of them to eventually enter their secondary schools via the DSA exercise," said Mr Low, pointing out that almost 20 percent of the cohort did so.
Besides learning and playing the various sports, students will also attend Sports Education Modules. These workshops look at the different aspects of sports, including nutrition, psychology and ethics, and have been crafted to give students a more holistic understanding of sport.
Mr Ong noted the programme's emphasis on helping students discover their interests through the Sports Elective Modules, as well as the Sport Education Modules.
He spoke of how the focus for children in sport should not be on winning, but rather the joy of participating in sport, highlighting the recent changes in the competition structure of the National School Games' Junior Division that made it more appropriate for the developmental progression and age of the child.
Mr Ong concluded: "There is no point telling a 10-year-old kid 'you have to win', and every day he carries on his shoulder the burden of winning and trains in order to win. It takes away the joy of sports participation. Let him grow, learn and enjoy the sport."