Workshop Summary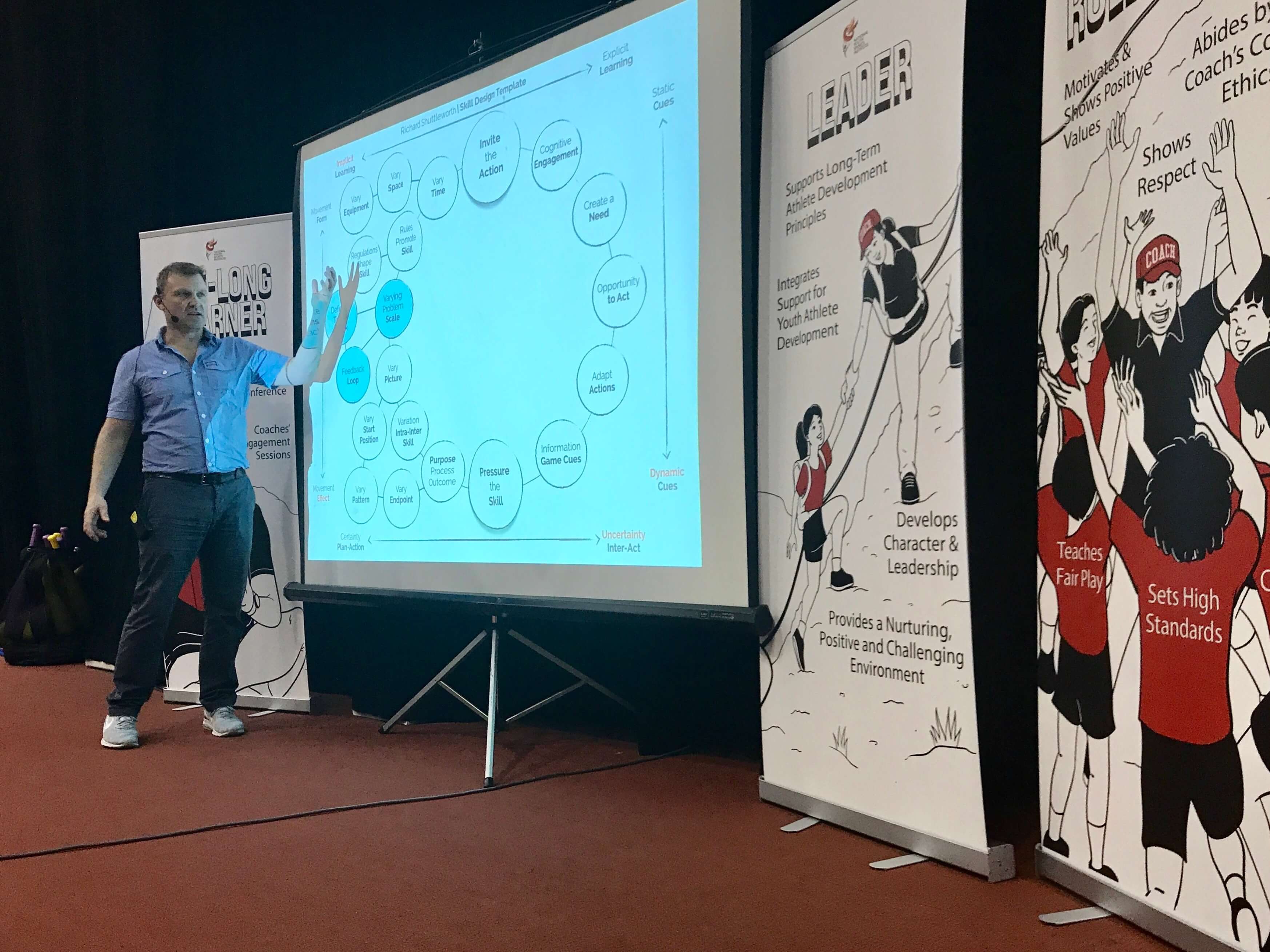 High Performance Coaching consultant Richard Shuttleworth conducting a workshop for local coaches.
The National Youth Sports Institute (NYSI) recently brought in Richard Shuttleworth, a high performance coaching and skill acquisition expert. Over two days (16-17 April 2018), he conducted a series of four workshops aimed at getting local coaches to rethink the way they train their athletes.
Richard has worked on high performance and development in a range of Olympic and World Cup team and individual sports. In his current role as a High Performance Coaching consultant, he seeks to support, stretch and challenge coaches.
And he did just that with his workshops.
"I think the principles shared were refreshing and industry-transforming in many ways. It challenged the established mindsets and practices in a myriad of different fronts, such that just to understand where to start requires a bit of thinking and planning in itself," shared Christopher Koh, coach of the Singapore Institute of Management netball team.
Throughout his career, Richard has worked with coaches and high performance athletes on areas that include elite and development coaching, athlete and team performance, as well as education and support. This included working with a number of national and international sport organisations, such as the English Rugby Football Union, Football Federation Australia and Super Rugby Franchises.
Local coaches gained much from Richard's workshops, which touched on the following areas:
"Constraints-Based" Coaching
A "constraints-based" approach is one where athletes are constantly required to make numerous decisions. Richard shared the theoretical underpinnings of the approach and gave examples of conceptual frameworks to assist with practice design and delivery.
Creating Learning Environments through 'Safe Uncertainty'
Richard challenged the audience to think about the way they created learning environments for their athletes. He demonstrated how to design learning and performance environments for developing adaptive, skilled performers. Richard also shared the theory and practice underpinning design principles for creating effective learning environments.
S

kill Development for High Performance Youth Athletes
Richard looked into how today's generation of youth athletes are often told what to do and are not accustomed to making their own decisions. He proposes that players be given opportunities to find solutions. He suggested that expression and creativity should be valued over conforming to a model, and allowing athletes to make mistakes provides essential learning opportunities.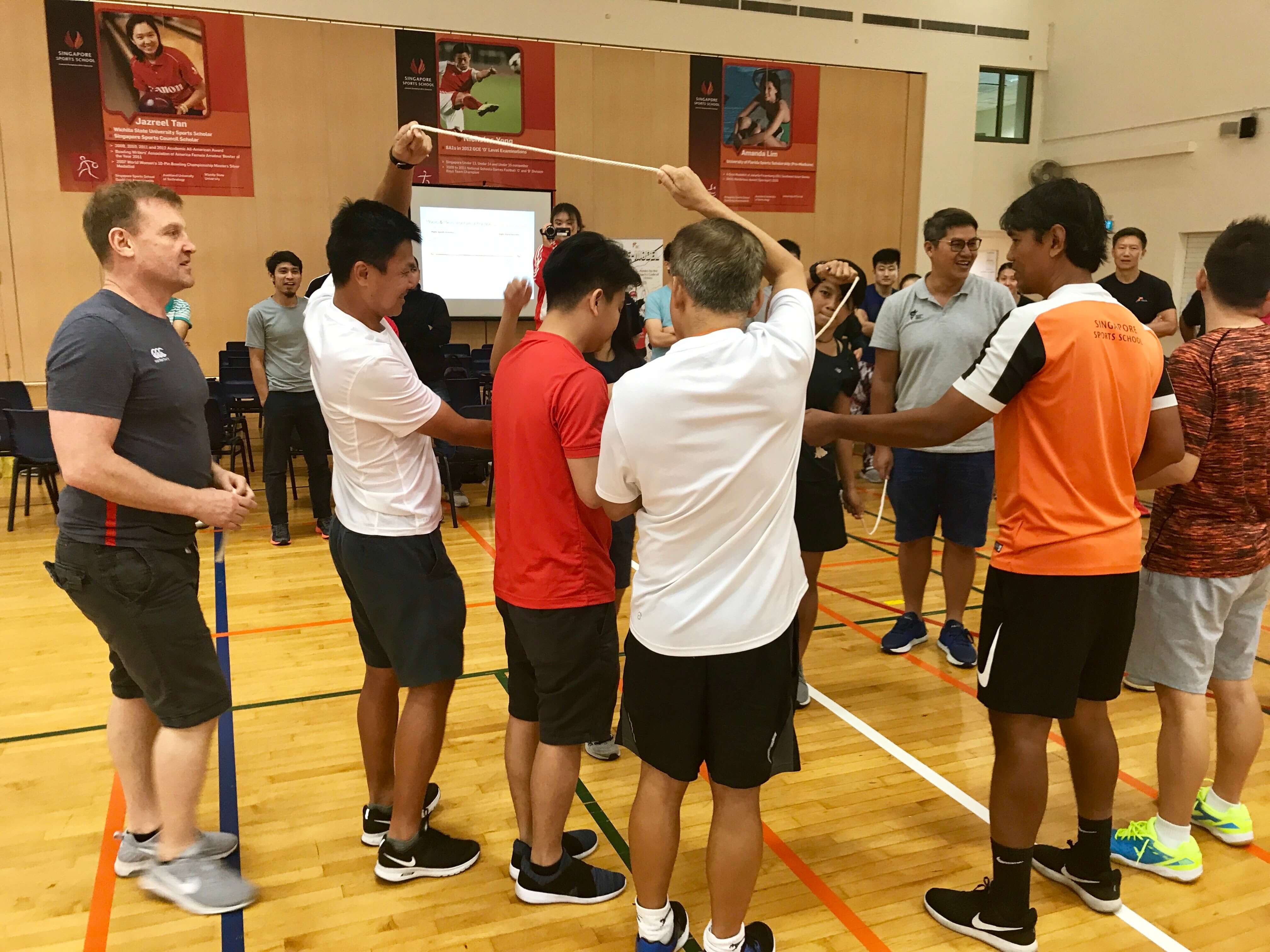 Local coaches engaging in a hands-on activity during the workshop conducted by Richard Shuttleworth.
While some of these concepts and approaches were new to most, some coaches were already beginning to give their athletes more ownership of their training. For example, Christopher had given the captain and vice-captain of his netball team the opportunity to dictate how training sessions were run.
He explained, "I wanted to give athletes more voice and autonomy in making decisions that would impact them most directly. Ultimately, they are the ones who are going to benefit - or not - from the training sessions and matches."
Lee Wung Yew has been exploring Non-Linear Pedagogy (NP), which is closely linked to the "constraints-based" approach introduced during the workshops.
"The initial response (to the "constraints-based approach) was not very positive. The athletes were accustomed to following instructions and not "thinking". It took a while for this concept to sink in, but the athletes are beginning to understand that they need to learn how to adapt and adjust to different & changing environments in their sport," he explained.
However, the workshop assured him that he was on the right track: "Having a better understanding of the way (the approach) is used for elite training provides me with ideas to implement it at the school level. The workshop also affirmed some of the approaches that I use in coaching."
Tan Meng Azmil, a local school badminton coach, was another coach who had given his athletes the chance to lead others in training. His senior student-athletes were responsible for coaching their juniors and it paid off.
"New methods were discovered when they guided one another. There was a more lively tone to training sessions. Learning, for the younger ones, was self initiated, instead of waiting for orders from me. Some of them were bonding well with their seniors too," noted Azmil.
He added, "Coaching is an art and a science. No two players are ever the same. As time goes by, athletes will evolve in different ways mentally so we have to adjust the way we coach in order to keep up. The principles taught are great for us coaches to see the various approaches to coaching."